You Fly Like a Woman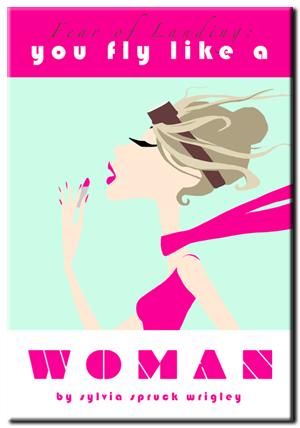 Getting a pilot's license was the furthest thing from her mind – until an ex-RAF instructor suggested that she wasn't competent to do so. The thing is, he could be right. Sylvia has just a few weeks to prove that she can fly as well as any man.
"You don't need a real license," Tom said. The stern-faced ex-RAF instructor had already chided me for dressing inappropriately in my short skirt and open-toed sandals. Now I realized he wanted to get rid of me.
He continued. "You want a wife's license. Forget the technical mumbo-jumbo. I'll show you the radio and we'll go up – you can even play with the flight controls."
A strangled sound escaped me. A wife's license?
You Fly Like a Woman tells the story of one woman's search for confidence as she stumbles into a man's world.
Available Online
You Fly Like a Woman
is now available as an ebook:
You Fly Like a Woman
is also available as an audio book, read by Molly Elston:
Reviews
What a super book.

John Farley author of View from the Hover
I love the way she captures the emotions faced through the training, the curiosity, the fear of failure, and the drive for adventure.

Derek Schwalenberg Flight Instructor
Spare writing, self-deprecating humor and a story arc that has you rooting for Sylvia all the way makes "You Fly Like a Woman" a delightful read. She keeps the technical jargon to a minimum so non-pilots can experience the challenges of learning to fly right along with her.

Phoenix Sullivan
What a great, honest account of flying.

A. M. Doig Amazon Review
Witty, insightful and thoroughly good fun without getting bogged down in tech jargon.

Lan Amazon Review
That was a short read...didn't realize it but still enjoyed it...funny and refreshing.

Kat Goodreads Review
The setting descriptions are vivid and a good background for the story. It held my interest from beginning to end.

C. Bahm LibraryThing Review
Readers on the Private Pilots Rumour Network had the following to say:
What an excellent read. I could relate to so much, even down to the cushion requirement! I had to check it wasn't my name on the front....
An excellent read. Another thumbs up!
Fantastic stuff I was drawn in for the whole read.
Non-stop! Very entertaining! I could so relate.
Bought it, read it, loved it! Best 77p I've spent for ages. When's the next one out?
I devoured it in about an hour! So reminiscent of learning to fly back in the 80's when we females were pretty rare in aviation. Always worrying if you were keeping up with the (sometimes quite macho) guys... And even now as a 737 captain I still on occasion get ground staff in some countries talking to the 20something yr old male copilot instead of me - had to laugh about the guy in Almeria who went looking for the real pilot when Sylvia was doing her cross country solo!
A quick and entertaining read
Well worth a read, well written, honest and fun
Very well written account and truly captures many of the feelings experienced whilst learning to fly. Great read
Must say, I now wish I could fly like a woman! :-)
Buy now